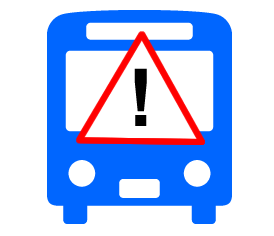 Safety – it is important to us!
Passengers in coaches and public transport buses are transported very safely. The accident statistics are clear for all to see. Coach travel is the safest means of transport.
Our contribution to safety for coach travel:

Modern vehicles
regular maintenance in our own workshop with specially trained personnel
Use of experienced, well-trained coach drivers
strict compliance with statutory provisions on driving times and rest periods
Coach compared to other means of transport
The coach is the safest of all means of transport. According to statistics from the Federal Statistical Office, coach passengers are involved in only 1.5% of all accidents in which harm to persons occurs. This figure stands to correct the false image of coach safety, which has emerged in the public eye due to drastic portrayals of accidents involving coaches.
Even compared to non-road public transport, the aeroplane and the train, the coach is the safest means of transport.
Safety technology in the coach
Modern coaches, like those belonging to our coach fleet, have three independent brake systems:
normal brake service with ABS (anti-lock braking system)
wear-free engine brake (exhaust dynamic pressure brake)
wear-free hydraulic retarder brake for enhanced safety, e.g. on long, downhill slopes
Other safety features of our coaches
Limitation to a maximum speed of 100 km/h using speed limiters
Cruise control for comfortable and economical driving
Bremsomat brake control for maintaining speed even on downhill gradients
Seat belts on every seat
Statutory safety checks
Statutory safety test of the entire vehicle every three months by independent experts (TÜV, DEKRA)
Annual roadworthiness and exhaust emission check too